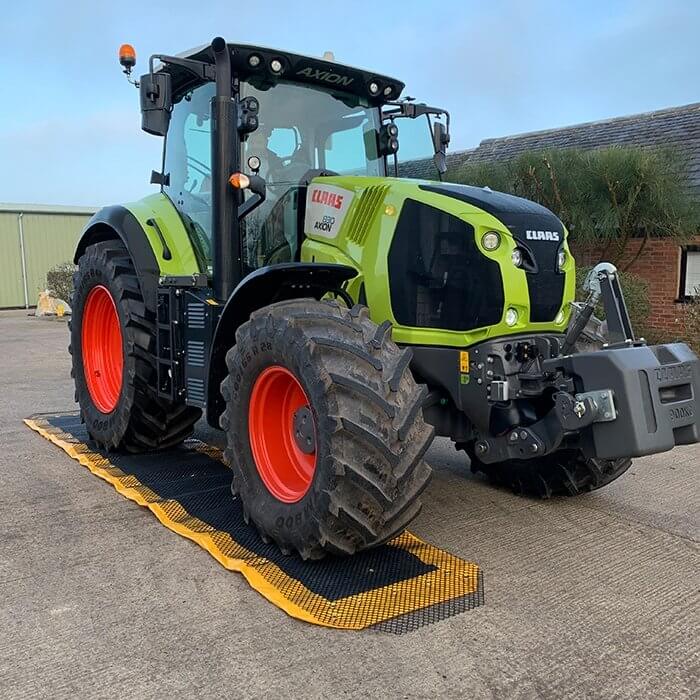 Disinfectant Tractor Mats 1m x 6m (2 Pack)
Original price
£1,275.67
-
Original price
£1,275.67
Disinfectant absorbent mats
6 Meters to accomodate full tractor tyre circumference
Prevents the spread of infectious diseases
Helps prevent the spread of infectious diseases such as Avian Influenza (Bird Flu), Equine Influenza, Foot & Mouth and Swine Flu. Also vital in reducing the transference of many other diseases such as salmonella, campylobacter and footpad dermatitis.
Tractor mats were used extensively in 2001 and 2007 against the foot and mouth outbreak. They have been specifically designed to disinfect the tyres of tractors. The tractor mats are extremely hardwearing and can withstand 50 or more heavy goods vehicles per day.
Note - For optimum performance it is imperative that the mats are fixed down securely to a firm, solid flooring using the fixings provided. Vehicles should drive straight on and off the tracks. DO NOT TURN on the mats.

Specification
2 twin track mats per pack
Length - 6 metres
Manufactured from super absorbent matting
Hardwearing cover encased in a PVC coated polyester envelope
Fixings provided
Effective & Economical
Evidence of reduced bacterial counts prove effectiveness of dispensing disinfectants into the treads of tyres
Replenish disinfectant as necessary
No wastage of disinfectant
Easy Installation
Laid on concrete or tarmac
Easy fix bolts provided
Dimensions & Sorbency
1m x 6m - 85 Litre sorbency per mat